The Nanotech Pain Patch Designed to"Turn Down" Pain in seconds.
Kailo is an innovative, patent protected pain patch designed to interact with the body's natural electrical system to relieve pain in seconds.

Pain is the result of electrical signals being sent to your brain Kailo's technology uses nano-capacitors designed to "turn off" your pain like a light switch – providing natural relief, anywhere on your body.
Kailo has zero side effects and can be worn every single day. Pain relief has never been this simple, effective, or affordable.

$4 Million In Sales And Counting!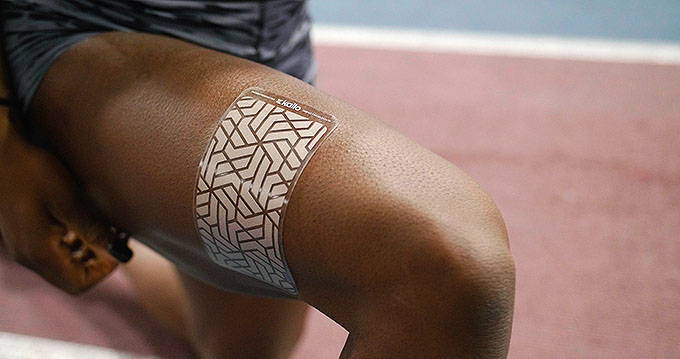 What You Need to Know About Kailo?
Works Anywhere On Your Body – Kailo has hundreds of applications. Quickly turn off pain in your head, neck, shoulder, back, knee, hand, foot, and more!
Feel Relief In Less Than 60 seconds – Correctly place Kailo wherever you feel pain and watch it disappear almost immediately.
100% Drug-Free & Zero Side Effects – Unlike drugs, the Kailo patch is non-transdermal (which means no chemicals or medicine enters your body) and is made with 100% natural occurring elements. With hundreds of thousands of Kailo patches sold, not one customer has reported harmful side effects.
Patches Last For Years (Include Reusable Adhesives) – Kailo can be worn over and over, day after day, without losing functionality when well maintained. Just replace the adhesive after 3-7 days of continued use and you're good to go. This reusable pain relief product offers amazing long-term potential for a one-time purchase.
Place On Your Skin – The strength of our body's electrical field allows Kailo to work effectively when it's placed on your skin.
Waterproof and Versatile – Extremely durable and designed to handle any physical activity or weather condition. Wear Kailo in the shower, in the pool, during a workout, running errands & more.
30 Day, 100% Money Back Guarantee – If for any reason you're not 100% satisfied with your Kailo patch, you can easily return it, hassle-free!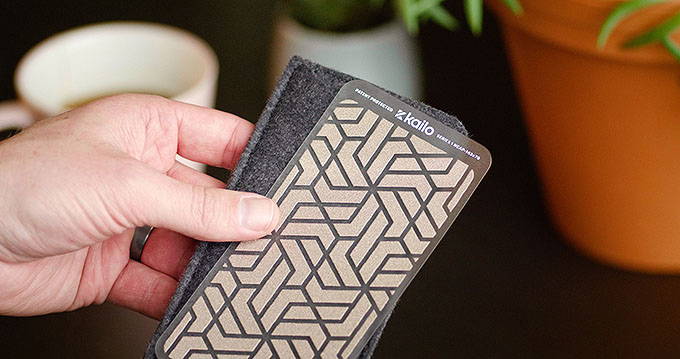 How It Works: the Science behind Kailo

The Kailo nanotech patch is made up of millions of charged nano-capacitors designed to assist the body in clear communication and reduce signals that cause pain and work like a bio antenna to support you body's natural ability to fight pain.
Simply place Kailo on your body between the pain and your brain — and get relief in seconds.
The capacitors match the electrical frequencies in your body — designed to enhance the communication between your brain and the location of your pain — causing an electrochemical reaction that reduces and in some cases stops the pain.
You simply place the Kailo along the nervous system pathway between your pain the your brain. And Kailo goes to work alleviating the pain in seconds.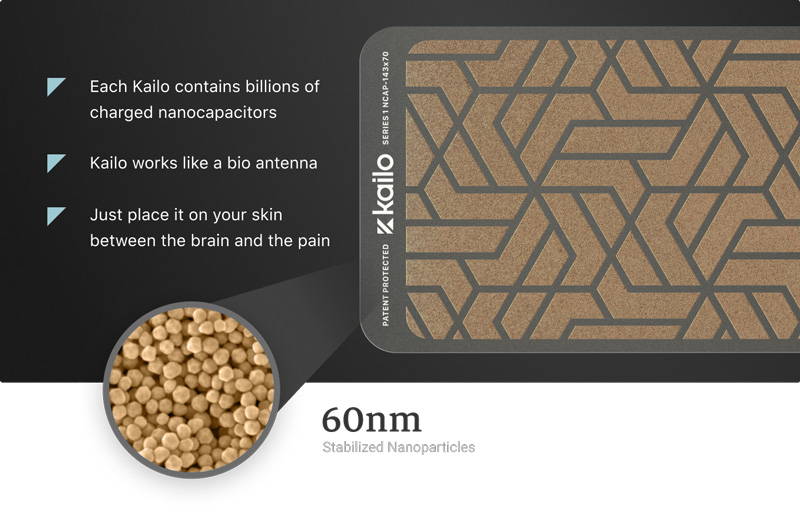 Carrier Layer - This non-conductive layer is made from a special kind of synthetic polymer that works as a base for the particle mixture. The laminate helps to protect the particles from friction and water damage.
Nanoparticles - This is the layer designed to interact with the body's electrical system. It contains billions of charged nano-capacitors designed to work as an antenna, and assist the body in clear communication to reduce pain signals.
Substrate - The nanoparticles are flood-coated with a patented substrate that holds everything in place to create a dust-free and water-tight seal.
"The pain went away in seconds." — Paiden Mecham
⭐️⭐️⭐️⭐️⭐️
"She was no longer crying." — Jared Fitch
⭐️⭐️⭐️⭐️⭐️
"I strapped it to my chest and within minutes I was able to take a full breath." — Richard Apgood
⭐️⭐️⭐️⭐️⭐️
"She slept through the night and hasn't taken the Kailo patch off since." — Rob Foster
⭐️⭐️⭐️⭐️⭐️
"Relieves the pain in my shoulder from a rotary cuff injury, headaches, and my knee that needs to be replaced." — Sarah K